Dear Parents,
We have had such a lovely beginning to our school year!
We kicked off this school year with a focus on the children's book The Big Umbrella, by Amy June Bates. In the story a red umbrella expands and grows as it welcomes all who need shelter under its outstretched "arms." Through a variety of experiences we explored this idea together. We first looked at ourselves under the umbrella ….and then expanded to our small groups under the umbrella…….and then we included everyone in the whole school! One of Katey's small groups even MADE an umbrella!
We dug a little deeper and imagined that the umbrella could get so large that it could shelter our Friends'n Fun neighborhood. We walked and explored in and around East Simpson Street. The older children mapped Simpson Street from Friends'n Fun down to Michigan Street. We all decided that we would make some visits along the street to introduce ourselves to, and find out more about our neighbors. We visited the therapy based office building on the west side of Fnf; The Miner's Museum; Habitat for Humanity; HIFI Jones Studio and Gallery; Angelique Sabo Acupuncture: East Simpson Coffee Company; and the Colorado School of Clinical Herbalism. Our neighbors were so friendly and fun to meet! When saying goodbye to our neighbor at the office building next to Fnf Miles Lieber said, "Now that we know each other, when you drive by (school) roll your window down and wave!" It is wonderful to be sheltered "under the umbrella" of our community. Take a moment to look at the wall in the front room and see our work and reflections on our visits.
We are now ready to enjoy a new journey! Stay tuned as woodland animals large and small seek the warmth and shelter of a very stretchy mitten as we begin our focus on the classic children's story, THE MITTEN!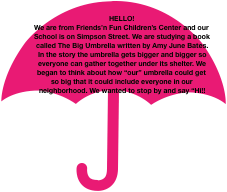 PLEASE be sure to read the newsletter carefully and mark your calendar for some exciting upcoming events!

Studio Discovery Fridays: Trees, trees and more trees! We have studied these beautiful and important gifts from nature from top to bottom! In fact one of our favorite new (FnF composed)songs goes like this:
"The roots are connected to the trunk, the trunk is connected to the boughs, the boughs are connected to the branches, the branches are connected to the twigs, the twigs are connected to the leaves, and those are the parts of the trees!"
This Friday our tree study will take a shift as we begin to explore trees as homes for animals and other creatures.
ANNUAL TREE OF THANKS – BY FRIENDS 'n FUN FAMILIES –
We invite you to join us in creating a leaf to attach to the tree in our front yard.  We will be sending home paper leaves and a few fun things to embellish them with.  We would like you to work with your child and family to think about whom in your family, friends, neighbors and/or people in the community you are grateful to and why.  Then please write a short note of thanks explaining this on the leaf,  let the children decorate it, and then cover it (front & back) with the contact paper.  Make sure your child'd name is on the leaf! Teachers will have ribbon at school for you to use to tie the leaves onto a wire we will have affixed to the tree.  We are in the hopes that you and your children will take time to read the collection of leaves of thanks on our tree.  We also hope that the community of walkers by in Lafayette might see and learn more about us as a community at Friends 'n Fun.
SNOW DAYS
It's that time of year again. Our general rule of thumb is that if BVSD closes for weather, we likely will as well. We list closure or late start a few different places when that happens. Check these when in doubt:
www.friendsnfunchildrenscenter.com – FnF Website on "Latest & Greatest" page
https://www.facebook.com/FriendsnFunChildrensCenterInc/ – Facebook
http://www.9news.com – Channel 9 News (closings/late starts are listed on website more quickly than TV streaming list)

We will make the decision to close based on the safety of all – children, parents and community.  If you have questions on snow days please call Janet or Jane.  We'll do our best to keep you informed.  Thank you.
FAMILY TRADITIONS
The holiday season is upon us. It all begins with Halloween (from the children's perspective) and rolls into Diwali, Thanksgiving, Hanukkah, Ramadan, Las Posadas, Christmas, multiple New Years', and many other wonderful celebrations that honor special cultural and religious traditions. We join together with family and friends to enjoy this season.
We treasure all of the unique and distinctive differences and unifying similarities that make up our school community. This holiday season we would like to recognize all of our families.
On Saturday, Nov.23rd from 1:00-3:00 we have once again reserved the John M. Taylor Conference Center at Imagine!, 1665 Coal Creek Drive, Lafayette (there are two Imagine! buildings – make sure you look for the Coal Creek address!). We would like to invite your family to join us to decorate a tree branch with photographs and small objects that represent special things about your family. We will provide an assortment of yarns, beads, wire, buttons, jewels, etc. – and a tree branch for each of you. You can bring photographs, small objects and your wonderful children. We will work together at Imagine! to create these beautiful branches. We will then bring them back to school to display for all to enjoy. The things you bring to embellish the branch should represent your family's interests (biking, pets, skiing, etc.), as well as special celebrations.
 We hope you can attend this gathering to get to know each other and share in an activity with your children to celebrate this special time of year. Drop by anytime between 1 and 3 and spend as much time as works for you that day. 
FUNDRAISER  
In December we will create note cards using your child's artwork – easel paintings, watercolor paintings, self-portraits, collages, etc.  Packages of your child's note cards, with envelopes, will be available to you at $12.00 per package of 8.  In the past families have sent them to grandparents, aunts and uncles, etc. for holiday gifts.  The money raised goes to help purchase art supplies at Friends 'n Fun.  Watch the parent bulletin board for additional details. This is our ONLY fundraiser of the year and it typically brings us about $1000 for use in our supply budget. We hope you can support us and enjoy this celebration of your children's efforts. Thank you for your continued support of our small program.
Share-a-Gift
We are proud to be participating in Share-a-Gift again this year. Share-a-Gift is an annual, all-volunteer, non-profit toy collection and distribution holiday project encompassing the Boulder Valley school area. Last  year over 600 households (1600 boys and girls, ages birth to 14) received these community donations. To be successful, Share-a-Gift needs thousands of high quality, new and used toys, games, books, and puzzles. School collections are the biggest source of toys for Share-a-Gift. This collection allows children to meaningfully participate in gift giving by sharing their own gently used or new toys with less fortunate children in Boulder county. Toys may be dropped off in the Share-a-Gift box in our school beginning  Monday  November 25th, through Tuesday, December 10th.   Friends 'n Fun families have been one of their biggest donors in the past.  Let's see what we can do to continue this tradition of giving!
IMPORTANT DATES !!!!!!!!!!!
Nov. 14-15 – Tree of Thanks leaves to be sent home. Return to us anytime from the 18th on, and help your child attach them to our tree so   our neighborhood community can enjoy.
Nov. 23 – FnF Family Traditions Workshop – 
Imagine! John M. Taylor Conference Center – 1665 Coal Creek Drive Lafayette 1:00 – 3:00PM1
Nov. 28-29 – CLOSED for Thanksgiving Holiday
Dec. 23 – Dec.31 and Jan 1st 2020    – FnF Closed.
                        We will be closed from Monday, Dec. 23rd through Tuesday, Dec. 31st and Wednesday January 1st. We will reopen on Thursday, January 2, 2020.
January 20 – MLK